Think
Women
---
Exploring Space, Innovation & Leadership
with Sarah Murray
of NASA & ISSET
Watch this engaging livestream on replay now

Think
Women
---
Exploring Space, Innovation & Leadership
with Sarah Murray
ISSET & NASA (retired)
Watch this engaging livestream on replay now
Replay the Live Streaming Event
We are delighted to share a livestream replay of the talk that Sarah Murray gave via live stream, on International Women's Day to explore innovation in the space sector and the benefits it holds for us all. Through her own inspiring story of a trailblazing career spanning over 20 years, including NASA and her passion for working with young people around the world through the ISSET (International Space School Educational Training) outreach programmes, you will discover how to maximise your own potential and the power of saying yes to opportunity.
Where and when
This Think Women Community Event took place on Wednesday, 8 March, 11am UK time via livestream to celebrate International Women's Day



Make A Difference
Learn how you too, can make a difference to equity and equal opportunity and inspire the next generations to reach for the stars.



Build Confidence
Find out how to grow your confidence and hone your communication and leadership skills to take on global projects and develop your own leadership style.



Be Inspired
Hear about a joyful, motivating and moving account of a meteoric career that will inspire you to promote education and learning and professional development across all ages.



Get Excited About Your Career
Get excited about your own career and learn from Sarah's experience leading an international team in a high pressure and high risk environment alongside astronauts, high-power government officials and NASA professionals across the space sector.



Discover Resilience
Discover how to bounce back from failure and challenges, overcome fear, be agile and resourceful, encourage others and build trust as a team and develop your own unique style.



Make STEM More Accessible
Discover too, some of the practical things you can do to make science and STEM subjects accessible to more girls and young people for a more equitable world.
This event will provide insights into:
Teamwork
Innovation
Leadership
Self confidence
International understanding
Crisis management
How to get involved on social media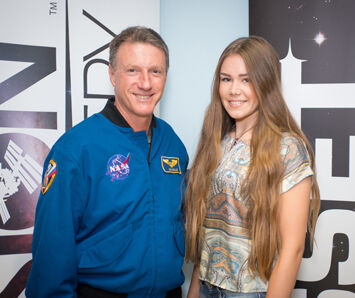 Supporting STEM opportunities
Find out how you can support NASA and ISSET's Mission Discovery which has given students from all over the world the opportunity to have their experiment carried out by some of the world's elite, such as astronauts Tim Peake, Scott Kelly and Dorothy Metcalf-Lindenburger to name a few.
Help facilitate ISSET programmes or fundraise to subsidise less advantaged young people to fulfil their dreams and talents through ISSET opportunities.
Currently working with STEM Outreach, International Space School Educational Trust (ISSET), Sarah is retired from the NASA Orion Multi-Purpose Crew Vehicle Programme. Her experience includes Assistant Division Chief for EVA (space walks), Robotics and Crew Systems on the International Space Station, executive support for NASA Administrator in the coordination of Space Centre Directors in implementing NASA goals, and the Project and Technical Lead in the development of NASA's new Orion Space Vehicle which will return humans to the Moon and beyond.
More upcoming events you may like…
In partnership with our sister site:

© 2023 Think Global People. All Rights Reserved