Munich International School
Relocate Editorial 

13 JANUARY 2022
Pioneering education for over 50 years. MIS inspires the citizens of tomorrow.
We send our students toward a future beyond our imagination, toward challenges that require complex, global and bold responses.
They will thrive due to their education, new opportunities and their positive mindset. Academically successful, curious, critical thinkers, courageous, reflective risk-takers, globally-minded contributors, in charge of their lives and their destinies. We nurture our students to flourish and to make a positive difference. We give to our students so that they can give back.
We built a special place where ideas are brought to life with an incredible modern languages, arts and design complex. Our expert and truly caring teachers continuously advance the world's leading curriculum. Our facilities encourage inquiry-based, student-led, enthusiastic learning. We challenge our students to engage with ideas and people. We promote strong ethics, environmental responsibility and we value our diversity.
We are proud of our students and our alumni, what they contribute and who they become. Through their contributions we create a better future for all.
Modern Languages, Arts & Design Complex
Makers' Laboratory
1-1 laptop access for Grade 7,8 and 10-12. iPads up to Grade 6.
Two student libraries (primary and secondary)
Performing Arts Centre
Olympic-sized 8-lane track-and-field complex
Quadruple gymnasium with dance and fitness studio and grandstands for approx. 800 spectators
Differentiated outdoor play spaces for early childhood and primary years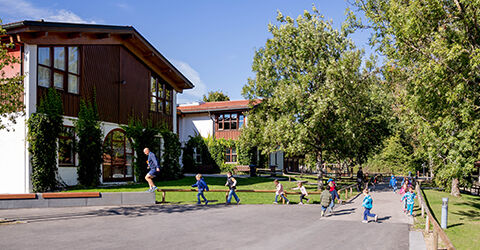 MIS nurtures, challenges and inspires our students to become academically successful, life-long learners, creative and innovative thinkers, ethical, globally-minded contributors, and healthy, well-balanced individuals.
Curriculum
Authorised for the IB Diploma Programme in 1980, MIS possesses decades of experience as a mature, highly successful IB World School. Aside from the IB Diploma Programme, MIS was among the first schools to achieve authorisation for the IB Middle Years Programme (MYP) and the IB Primary Years Programme (PYP) in 1998. Not surprisingly, MIS is home to many of the examiners, subject leaders and curriculum writers for the IBO.
The learning experience at Eerde is international, intercultural and individual with personal attention for each student. Eerde is a place where your child can live, learn and develop.
Located on a tranquil estate in the forested region of Overijssel, Eerde provides a serene escape from city life and the traditional school model. Eerde is home for students from more than 20 countries, eager to embrace nature at every opportunity. While the main school building remains Eerde Castle, the classrooms and learning spaces are themselves deeply integrated into the surrounding environment. In addition, Eerde has convenient access to Amsterdam, The Hague and Rotterdam through easy rail and road links.
Academic Programmes
Our curriculum is built within, but not limited to, the frameworks of the three IBO programmes: Primary Years Programme (PYP), Middle Years Programme (MYP) and Diploma Programme (DP).
We intentionally design and deliver curriculum to bring forward essential learnings and experiences for all of our students. We believe our students' learning experiences must reflect the world in which they live: we embed rich technologies within all our learning environments. In Grades 7 to 12, all students have access to a laptop computer.
Please see HERE for more information about Global Education in our sister site Relocate Global.
Contact Munich International School
Phone: +4981513660
Fax: +49 (0) 8151 366-119
Address: Schloss, Buchhofstraße, 82319 Starnberg, Germany
Email: info@mis-munich.de