Accession of the United Kingdom of Great Britain and Northern Ireland to the Comprehensive and Progressive Trans-Pacific Partnership (CPTPP), a free trade agreement of 11 members including Japan, Plus the pandemic and disruption to supply chains have highlighted the country as an assignment destination. Sally Robinson and Satski Gamble report. 
Thanks to a strong economy, a vibrant culture and a growing selection of highly-rated international schools, Tokyo has plenty to offer globally-mobile families.
"Japan is a buoyant and growing market fuelled by robust economic growth and healthy long term outlook," says Sudeep Laad, partner at L.E.K Consulting and founding leader of its global education  practice.
Government immigration figures for 2022 show a growing population with three million foreign residents in Japan's workforce – most being Chinese followed by Vietnamese and Filipino.
Although most expats enjoy living in Tokyo, the city presents some challenges: the language barrier can be difficult to negotiate and accommodation is expensive. In the 2023 cost of living rankings by ECA International Tokyo comes in at number 10 in the world's most expensive city index.
According to the 2022 expat city rankings by InterNations, a comparison of how expats rate their life in cities across the globe, Tokyo ranks towards the bottom – 47 out of 52. The city rated well for quality of life and job security but many expats felt it could hard to settle and make friends in the city.
---
This article is taken from the latest issue of Think Global People magazine. Click on the cover to access the digital edition.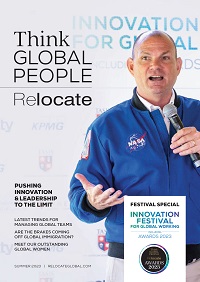 ---
The public education system in Japan is highly regarded for its exacting standards, but tends to be highly pressurised and exam focussed.
Public schools are free and open to everyone, including expats. All  lessons are conducted in Japanese and the school year runs from April to late March. Compulsory schooling lasts for nine years through junior and elementary high schools but the vast majority of students enrol in high school after this. According to OECD figures, at least half of 25-34 year olds have a tertiary education.
"The Japanese government has become open to the presence of international schools and what they can bring to Japan, and the country is starting to become an alternative to China."
Kirsteen Jack, founder of the International School Advisory Tokyo
Other new schools include the Hakuba International  School, founded by a former Goldman Sachs banker, which will open this summer with a curriculum focused on outdoor learning and sustainability. The boarding school is set amongst nature in the beautiful Hakuba Valley with a focus on the environment and personal well-being.
Jinseki International School opened in 2020 in Hiroshima, Japan's first full boarding primary school with bilingual learning in English and Japanese and the Capital Tokyo International School opened last year with a focus on bilingual education. Students are mainly taught in English with some lessons in Japanese and weekly Mandarin Chinese lessons.
Despite the many advantages of living in Japan, there are certain challenges that expats may face. One such challenge is the difficulty of learning the local language, making it challenging to navigate daily life without proficiency in Japanese. Additionally, utilizing online administrative services and conducting cashless transactions can pose obstacles and disrupt the smooth functioning of daily activities.
However, for those who are able to overcome these challenges, Japan continues to be a safe, comfortable and stimulating destination for relocation and raising a family.
Join Think Global People
Our exclusive membership network for decision-makers, aspiring leaders, experts and thought leaders focused on global business and working.