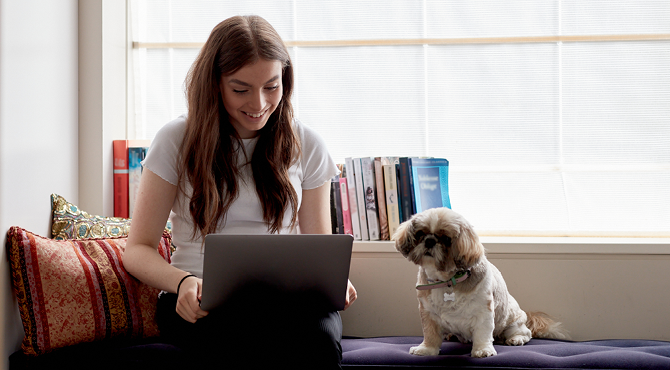 Relocate Editorial 

19 September 2022
Harrow School Online brings together the richness and heritage of a Harrow School education with leading online learning technology and teaching practices from Pearson making it the ideal partnership. A fully online global sixth form, delivering an A Level education to young adults aged 16-18 preparing pupils for the world's top universities and beyond, with rigorous academic studies combined with a diverse range of extra-curricular opportunities to develop character and foster friendships with peers across the world.
WHO THE SCHOOL IS FOR?
The purpose at Harrow School Online is not only to help pupils achieve academic excellence and fulfil their ambitions of attending the world's top universities, but also to seek to develop independent thought, intellectual curiosity and other qualities towards a life of leadership and personal fulfilment.
Welcoming strong applicants with one or all of the following attributes:
An academically-minded pupil who wants to stretch themselves to the best of their ability, with a willingness to work hard and an ambition to be part of one of the world's greatest institutions.
A pupil who would benefit from a more flexible school schedule, gaining a top-class education while pursuing a passion in sports, philanthropy, business or the arts.
A pupil who needs flexibility of location as they will be relocating during their sixth form education, or would like to be able to split time between different countries or spend time travelling during their A level studies.
A pupil whose individual style of learning is not well-suited to the traditional classroom and who would thrive in a more personalised setting.
Harrow School Online requires pupils to be dedicated, focused and organised, and will reward them with an education like no other.
ACADEMIC EXCELLENCE
Harrow School Online's Sixth Form programme features Pearson Edexcel International A Level courses in Maths, Further Maths, Biology, Chemistry, Physics, Spanish, Economics and Psychology.
The two-year online courses have been built for Harrow School Online by Pearson, a leader in the provision of British curriculum and qualifications. They present concepts in a way that is interactive and engaging, using video and text explanations alongside graphics, simulations and frequent checks of understanding. The self-study components of the courses are supported by live online lessons with teachers, where pupils have the chance to discuss and practise what they have learnt.
Pupils enrolled full-time at Harrow School Online in their two-year online courses may also add a Tutor-Led A Level in a subject not currently offered by the school.
School schedules vary by pupil and by subject combination, but full-time pupils will be required to commit at least 25-30 hours a week to their studies, along with a range of 'Super-Curriculum' enrichment courses to inspire intellectual curiosity and an interest in ideas for their own sake.
In addition to providing a high-quality academic programme, Harrow School Online offers pupils a range of clubs and activities. The Harrow School Online extracurricular programme encourages pupils to be engaged in service, fellowship and leadership in both their online and local communities.
UNIVERSITY FOCUS
From their first days at Harrow School Online, pupils are counselled by a Success Coach on university selection, including Oxford, Cambridge and the Ivy League. As pupils complete their International A Level courses, they make plans for their university and career pathways. Success Coaches guide them through this process and, along with their House Master and House Tutor, help them to prepare for university and work placement applications and interviews.
In May and June of their second year at Harrow School Online, pupils sit their International A Level examinations at the Pearson Edexcel test centre of their choice. We say goodbye to them at a leavers' ceremony but stay in touch through our Online Harrovian alumni network.
SUPER-CURRICULUM
Harrow School Online offers a diverse programme of Super-Curricular electives beyond the International A Level subjects, on topics such as game design or the ethics of genetic engineering. Pupils have access to a wide range of learning resources selected by Harrow School Online staff, such as recorded TED Talks and guest lectures from Harrow School.
The Super-Curriculum inspires intellectual curiosity and engenders a love for learning that will remain with Online Harrovians throughout their lives.
EXTRACURRICULAR PROGRAMME
Beyond their academic work, pupils engage in a variety of activities that develop character, foster friendships and promote leadership and personal fulfilment. Extracurricular opportunities include online activities such as chess club, art club, robotics and a literary magazine. In addition, the co-curriculum encourages pupils to be engaged in service to their local communities.
The highly flexible "anywhere, anytime, anyplace" aspects of Harrow School Online allows pupils to participate in these activities throughout the week.
THE POWER OF ONLINE LEARNING
As a high-calibre online school that delivers the British curriculum, Harrow School Online offers a quality education that optimises its pupils' university and career prospects.
The online schooling programme has a number of other unique benefits, such as:
Individualisation: Pupils follow an individual learning pathway, working through self-study materials at a pace that suits them and studying in small classes with lessons carefully tailored to their needs. Every pupil is seen and heard, and no one is left behind.
Participation: In the self-study aspect of our courses, there are more opportunities for pupils to participate and respond to content than in a traditional face-to-face environment, and more time to reflect on topics and give deeper thought to responses.
Self-discipline: Harrow School Online supports pupils to become better independent learners and to develop strong self-discipline skills, which is invaluable preparation for university.
Harrow School Online requires its pupils to be dedicated, focused and organised, and rewards them with a personalised, flexible and supportive education like no other.
Introduction to Harrow School Online
Why choose Harrow School Online?
PERSONALISED LEARNING
At Harrow School Online, pupils experience all of the flexibility of self-paced learning within the structure of a complete school programme supported by expert teachers and tutors. Before the academic year begins, new pupils participate in an online orientation to become familiar with the platform and learning protocols. The online lessons are carefully designed to ensure pupils' success, while generating deep data about their learning. As pupils work through their lessons, their teachers monitor their progress and remain in frequent contact to provide support and extension. Approximately one third of each course is delivered via LiveLessons®, for which pupils log on in small groups for targeted instruction from the teacher.
TEACHERS AND TUTORS
Harrow School Online builds on the educational tradition of Harrow School, which combines deep subject knowledge with teaching that engages and enlightens. Teachers at Harrow School Online have been specially trained to bring that unique approach online, in order to reach pupils around the globe.
In addition to leading live teaching sessions and shaping the online self-study content, Harrow School Online teachers serve as House Tutors, working with pupils individually each week to further their overall academic progress.
SUCCESS COACHING
As well as their teachers and tutors, each pupil has a Success Coach who supports them to thrive in the present and plan for the future. Success Coaches work with pupils to develop their academic, personal and social skills while applying to the university of their choice and preparing for the career of their dreams.
The Success Coach fulfils this critical role through a combination of fortnightly one-to-one guidance sessions and small-group sessions tailored to pupils' needs.
Harrow School Online Success Coaches also advise on various co-curricular activities, from the Debating Society and the school newspaper to the STEM Club, providing multiple opportunities to build relationships with and mentor Online Harrovians.