How are cost pressures and supply shortages affecting the global mobility market?
Journalist Marianne Curphey led an informal discussion with guest panellists Fruzsina Hodson, Senior Manager, Santa Fe Relocation and Shan Norman, GMS, Regional Vice President, EMEA Weichert Workforce Mobility, with interjections from global mobility, tax, immigration, serviced apartments and education experts capturing current trends and challenges at the Think Global People Networking Reception held at the Institute of Directors. An insightful evening for navigating international markets.
European cities are now facing a shortage of suitable properties for rent, with prices rising and landlords withdrawing flats and houses from the market due to changes in government legislation.
While London and New York have for many years have faced a shortage of houses for assignees and overseas travellers, now rental properties in Germany, the Netherlands, Spain and Portugal are also in short supply.
The global mobility cycle is changing
"London has always been a difficult market, but now the whole of the European market is also challenging," said Fruzsina Hodson, Senior Manager, Santa Fe Relocation. "For example, a budget that in the past would  have secured you a one bedroom flat in Portugal  now only pays for a room in a shared house."
Fruzsina was speaking at a panel discussion with Shân Norman, Regional Vice President, EMEA, Weichert Workforce Mobility, and Journalist Marianne Curphey at the Think Global People International Networking Reception at the Institute of Directors in London. The lively evening of debate and networking brought together leaders, decision makers and service providers across global mobility and international business. Led by Fiona Murchie, Founder & Managing Editor, Relocate Global and Think Global People, it was a chance to exchange views and catch up with the trends in the market.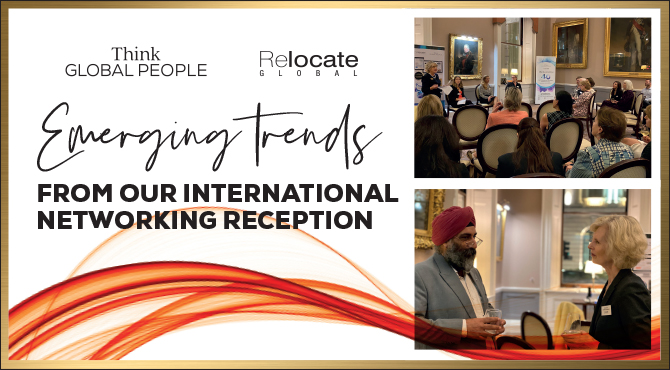 "I have seen lots of different cycles in the global mobility market and previous cycles it has been common for everyone to be treated the same," Shân told the audience. "The marked difference in this cycle is that senior people are being treated with kid gloves. Companies want to ensure that everything is done for them and they recognise the need to pay for that extra level of service. Contrast this with young people who are relocating for the first time now and don't need that level of support or level or spend."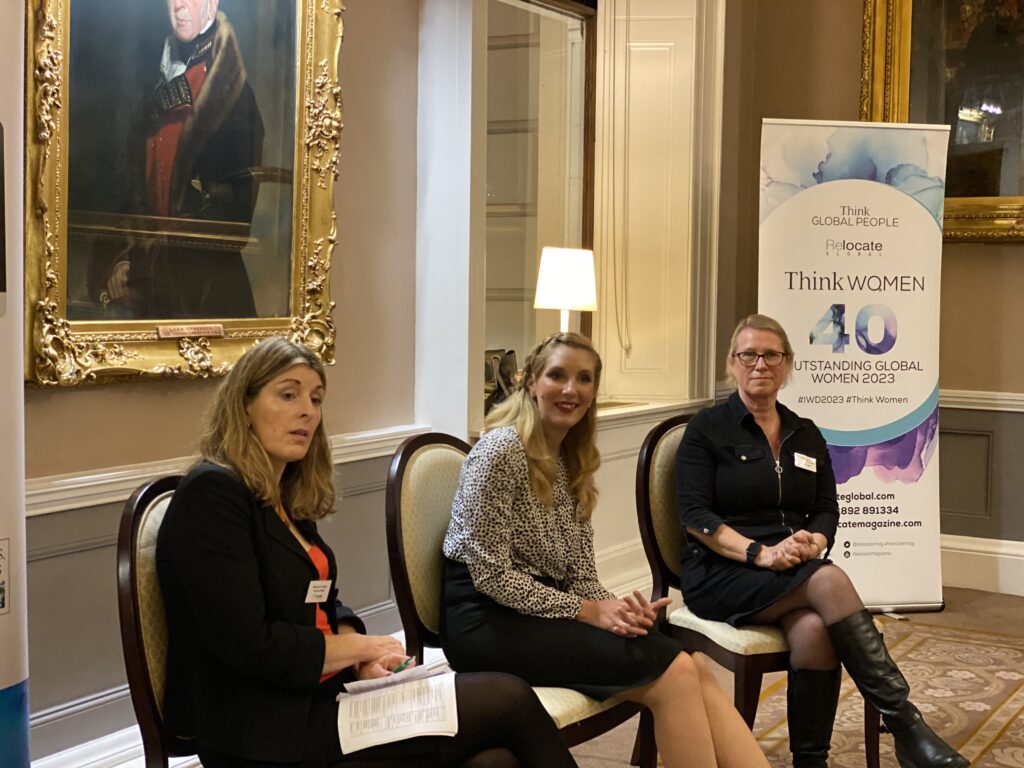 How changes around legislation and cost are reducing supply
 Fruzsina said Santa Fe was working to keep clients informed of how the market was changing by providing market updates, white papers and seminars flagging up areas where rules were changing or property shortages were emerging.
She cited the example of the Netherlands, where the government has introduced a points system which has led to landlords withdrawing properties if they think they will not receive the rental income they had hoped for. In the UK, the modification of Section 21, known as the Renters' Reform Bill, reduces the powers for landlords to evict tenants and limits rent rises and may lead to landlords exiting the market.
"We need to keep educating our clients that unfortunately there is a shortage of properties," she said. "Relocations might take a little bit longer and a typical home search programme is not a one or two day home search but might take a month to complete."
Shân said: "Anyone looking for a house can't go out and see ten houses the first day and six the next and then choose between them. It doesn't work that way anymore."
She added that there had been a move towards personalising relocations in order to provide a "wow factor" for the younger individuals who were moving and who would not be in receipt of the extra perks that senior staff might be given.
"It is much more about what the individual needs," she says. "We find out what that person is interested in so that when they arrive in their location they can take part in a walking food tour of Borough Market in London, a Swiss cheese tour, guided mountain climbing or whatever might make it special for them."
She said that as business travel has returned, it might be expected that countries would open up their borders and make travel easier, but since Brexit and Covid this has not been the case. There was also a greater demand for relocation companies to provide procurement departments with detailed sustainability criteria.
The challenges and rewards of hybrid working
James Smith, Tax Director, RSM UK, was one of the attendees who contributed his expertise to the discussion.
"Working internationally can have many advantages for employers; a larger talent pool, employee engagement and talent retention, but caution should be taken as to the risks," he said. "An employee working for the benefit of an employer outside the country in which they are working or live can give rise to corporate obligations. A Permanent Establishment (i.e. a corporate presence) of an entity may be created in that other location resulting in corporate filing requirements. This could be corporation tax filing, the creation of a payroll withholding requirement or the movement of social security from one jurisdiction to the other."
He said it was important to important to plan for hybrid working, because otherwise there was the risk that employers and employees could find themselves with unexpected compliance obligations and legal headaches, not to mention the challenges of tax/social security being in the 'wrong' country.
"This can lead to significant costs for both, but also importantly test the limits of employee engagement and turn what might have been a great benefit into an employee relations issue," he said.
Understanding your employees and where they are and what they are doing is key to ensuring that you are compliant regarding tax and social security and what to consider before setting up or sending an assignee to a jurisdiction.
"Limiting time an individual can spend in a foreign jurisdiction, where the work can be undertaken or the type of duties which they're able to do can mean the difference between there being compliance exposure or not," he said. "If the move is business critical, mitigation might not be the desire, rather ensuring the employer remains compliant takes precedence. Engaging with your advisor on structuring international."
What organisations need to know about digital visas
Olga Nechita, Director at Fragomen, highlighted the new issues around visas and changes to the system.
"The acceptance of remote workers in the workforce has grown exponentially over the last three years and over 30 countries and territories launched digital visa pathways as a consequence," she said. "However, the number of jurisdictions offering remote work visas/digital nomad visas has levelled off over the last six months and related immigration laws have been codified and clarified."
Looking farther ahead, countries with disappointing results from their remote work policies will likely revise and restrict them through increased eligibility requirements such as higher minimum salary levels, shorter authorized stays, or cancel them altogether.
"Additionally, governments' scepticism of growing remote workforces may increase inspections, audits and border interrogations for digital nomads and those entering for remote work," she said.
Olga highlighted some new challenges which are emerging in global mobility, including increased compliance efforts and governmental agency communication ensuring compliance with immigration laws.
"There is increased monitoring and/or regularisation of business and work activities under visitor status both in the UK and Europe," she explained. "There has been a rise in the practice of conducting business activities under tourist visas – whether by dedicated programs or common practice – which has triggered government monitoring of such activities."
As a result, business travellers need to be aware of the electronic recording of the length of time spent in a country by governments.
"The digital transformation is continuing to pick up pace around the world," she said. "Systems are becoming more sophisticated and inter-operability of online systems with other government departments is increasing."
One of the online systems with the most focus and media attention is the Electronic Travel Authorisation (ETA) set to be implemented from 25 October 2023 in the UK and the European Travel Information and Authorization System (ETIAS), set to be implemented in 2024 post Paris Olympics.
"Both systems are designed to monitor and control visitors from visa-exempt countries," she said. "It is a digital permission to travel not a visa. The system will perform detailed security checks to determine whether a person is allowed to enter. To receive travel authorisation, individuals must complete online application form, pay the application fee and provide passport details. This system is similar to ESTA required in the US."
She explained that ETIAS is an electronic travel authorization system that tracks passport holders of countries that do not require a visa to enter the Schengen Area and three additional non-Schengen EU countries (Bulgaria, Cyprus and Romania). Passport holders of countries that are not subject to visa requirements (for example, U.S., UK, Canadian and New Zealand citizens) who intend to stay in the Schengen Area or Bulgaria, Cyprus or Romania for no more than 90 days in a 180-day period, must apply for an ETIAS.
All Europeans and other no-visa nationals (such as US nationals for example) either visiting or transiting through the UK will need an ETA. No detailed timeline has been announced but she anticipates a phased roll out over the course of 2023 and 2024 with travellers from progressively more countries requiring ETAs.

Changes and trends in education and international schools
At the Conversative Party Conference the Prime Minister Rishi Sunak announced plans to scrap A-levels and T Levels and replace them with a new qualification. His proposal was to create the Advanced British Standard (ABS) in their place, which he said would create the "best education system in the western world".
Marianne Curphey asked the attendees whether those with expertise in international education had a view on how this might impact the demand for British schooling and how it might affect UK university education.
Fiona  McKenzie, Global Head of Education at Carfax Consultants, said the detail of the propels was yet to be ironed out, but that UK education was regarded as the "gold standard" around the world.
"The world has moved towards a more generalist education," she observed. "There is a question over whether this proposal will be actioned, but English schools have a policy of providing excellent education and will adapt to what is needed."
Mary Biddlecombe, Executive Director of Development and External Relations at TASIS The American School in England, talked about how there was still strong demand for boarding places among the children of relocating families.
"We are at full capacity for boarding, which is really popular, but we have seen a decrease in demand for day pupil places," she said, explaining that it was a global issue seen by schools in other countries too.
One reason for this might be that when families are given a lump sum relocation package, they are in some cases choosing to spend the money on better housing rather than education, particularly at the primary school level.
"Raised rental costs have been a huge challenge for families, and there are no longer the very comprehensive relocation packages available that we saw pre-pandemic," she said.
Claudine Hakim, Head of Advancement, Transitions & Student Support at the International School of London (ISL) agreed, saying that previously housing and tuition were a secure part of the relocation package.
"Now families are telling us that they are being given a lump sum and that they might live in a better house and save private education for secondary level. Although senior staff and CEOs are still getting generous packages, this is not the case for everyone."
In addition, she said some families were choosing to move on after two years in a country because otherwise they would lose their relocation support and would be treated as living in the UK full time.
In conclusion, the global mobility market faces a raft of challenges which are not confined to the UK or Europe alone. However, relocation companies, tax and immigration experts and schools are all adapting to the changes in order to best service clients and individuals on their mobility journeys.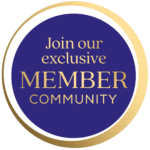 Join Think Global People
Our exclusive membership network for decision-makers, aspiring leaders, experts and thought leaders focused on global business and working.