Latest Innovation trends for managing global teams to meet your business objectives
The impact of technology, the future of work, the challenges and opportunities of diversity and the logistics of supporting and nurturing a global workforce are all challenges that organisations face in 2023.
Building on the success of the Future of Work Festival in 2022, the Innovation Festival for Global Working brings together CEOs, CFOs, HR, Global Mobility Professionals, decision makers and influencers in multinational organisations. Innovation is at the heart of the Festival as we will examine how the rapid changes will impact globally mobile teams, managers and those responsible for the acquisition, retention and development of talent.
Fiona Murchie, Founder & Managing Editor of Relocate Global, and her team have put together an exciting programme of events which will appeal to our global network of leaders and changemakers from the UK, Australia, USA, Germany, Singapore, France, Switzerland and around the world.
Here is a taster of some of the themes that our thought-leaders will be exploring at the Festival:
The impact of technology
"Global Mobility functions will come under increasing pressure to consider the impact of digital transformation," says Deloitte in its new report Digital Innovation in Mobility: Global Workforce. "This pressure will come from within the organisation, from the employees and from the external environment. The traditional workforce has been influenced by rapid changes in digital market trends, advancements in technology, connectivity, plus new attitudes to work and careers from the connected workforce generation."
While technology will challenge the way we work, it also offers huge opportunities, says Chris Brewster, Elizabeth Houldsworth, Paul Sparrow and Guy Vernon, thought leaders on International Human Resources Management. They are the authors of International Human Resource Management, available via www.koganpage.com
Chris is a professor of International HRM at Henley Business School, Elizabeth is a professor of Leadership, Organizations and Behaviour at Henley Business School, Paul is the Emeritus Professor of International HRM at Lancaster University and Guy is a professor of HRM at Southampton University. Together, they wrote International Human Resource Management, a crucial textbook packed with global examples that explores all aspects of international human resource management from global talent strategy, recruitment and knowledge management to the difference in reward systems across cultures and managing expatriate assignments. This new fifth edition now includes new coverage of the impact of the gig economy on international HRM, how technology is impacting HRM across countries and new material on workforce diversity.
"The impacts of technology or developments such as the gig economy vary by country depending the capability of local businesses and the regulatory environment," they say. "Think about attempts to place sanctions on the transfer and use of some technologies; they are hard to block and easy to exploit. They impact international HRM through the location of business activity, centres of excellence, skill levels, transfers of knowledge and local operating demands."
Technology impacts global working when it becomes cheaper than it currently is to employ people. It also creates new ways of working. It is often impossible to foresee these more than a few months forward. This poses new challenges for organisations with global teams and means many businesses will be looking closely at how they manage their workforce around the world.
"There will be pressures to reduce global working: why move and live somewhere else when you can do the work remotely from home? Why set up a factory in a cheap labour area and then have to transport the products around the world, when 3-D printing means you can produce what the customers want just down the road? Why import migrants to staff our care homes, when robots can do many of the tasks cheaper and better? Or maybe you would prefer to live in a territory that offers a warm and pleasant lifestyle, or a tax-free life, and do your work from there (both options are available)?"
The authors say that which way things develop will depend on economies, what people (managers and workers) are comfortable with, and on cost.
"Geographically, most of these changes will impact the minority of richer countries of the world; the poorer countries with largely informal work will probably remain largely unaffected. Managers and employees do not necessarily like to work at a distance; face to face contact is known to be the most effective way of coordinating work, and people like the social side of the workplace."
Artificial intelligence is developing at a rate unforeseen even by experts. This will affect all aspects of our life, and many people see it as a controversial development.
"We write just after a "let's pause" letter has been signed by many of technologies leading lights," the team says. "Often though it is impossible to "pause" technological developments, never mind stop them. Surgeons can conduct operations from thousands of miles away using remote technologies. Providing customer services or co-ordinating operations remotely is easy by comparison. A concern for many roles will be monitoring outputs to ensure employees are delivering as expected.  There will be an inevitable rise of technological surveillance."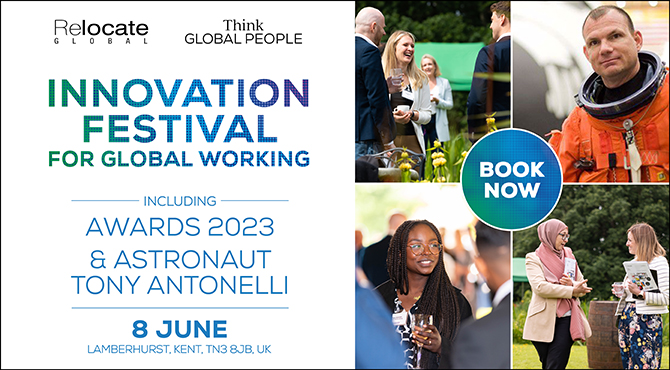 How automation and new tools will change the mobility landscape
While AI and technology is disrupting global mobility and forcing managers to try to imagine what the future might hold, it can also help assignees better envisage what their new life might involve when they relocate.
"Choosing to relocate abroad for work is a big decision, and one that employees will want to think long and hard about before making the move," says Ema Boccagni, Commercial Director EMEA at ECA International.
"There are so many things to consider – how far away the destination is from home and family, the economic and socio-political situation of the location, and climate – to name just a few. For families, considerations around the education system and school access also come into play."
It is only normal that employees will want to visit their potential new home before they commit to moving there, and pre-relocation visits are very common in the global mobility world. With global mobility (GM) teams often challenged to find ways to optimise their program costs, and with companies under increased ESG scrutiny to reduce their carbon footprint, cutting back the number of pre-relocation visits is a valid solution.
Thanks to technological advances and the growing accessibility of VR technology in particular, GM teams are now able to offer their assignees an immersive virtual site visit in lieu of flying them across the globe. The utility of this option has become particularly apparent since the pandemic, as travel restrictions and vaccination requirements made travel much less seamless than before.
Using VR headsets, assignees can now get a feel for a city, visiting the office they will be based at and explore accommodation options in lieu of a house search. Noises and sounds can also be integrated into a virtual world, to give those experiencing the location a real sense of what it would be to walk down the street in any given town.
This is a particularly helpful alternative for short-term assignments, where the shorter duration may call into question the requirement for a pre-relocation visit, and for those "global nomads" assignees who are always on the move – and who may be unable to take the time to visit each location before moving.
"The cost saving benefits for big corporations is significant and as the world strives towards implementing more sustainable practices, the use of VR headsets in the world of global mobility is an attractive option for site visits – and one that we're likely to see proliferate in the coming years," she says.
The proliferation of disruptive technology and AI
While Generative AI continues to experience rapid growth, dominating headlines and bringing with it a global wave of excitement, turbulence has struck as Italy becomes the first western European country to challenge the shift by banning ChatGPT over privacy concerns.
The announcement followed the UK government's unveiling of its AI white paper last week – which sets out its approach to encourage growth and protect users. Despite this, experts claim the UK remains a step behind in its approach towards AI regulation. Claire Trachet, tech industry expert and CEO of business advisory, Trachet, comments on Britain's 'light-touch' approach towards regulating AI and how this may make it stand out as an investment destination.
"The AI sector represents a key economic stimulant that is critical for growth as AI developers contributed roughly £3.7bn in value to the UK economy, as well as attracting almost £19bn in private investment through 2022," she says. According to a government report, over 50,000 people work at 3,170 AI geared companies in the UK, which generated a combined £10bn in revenues last year. However, fears of mass unemployment and a dystopian future in which AI "minds" take over have been increasingly present.
Optimists believe AI can free humans from mundane jobs and expand the scope of the human sphere. Conversely, experts highlight its capacity to subvert personal privacy and even imitate or steal personal identity. Sceptics and experts alike are calling for pausing the development of AI, including Apple co-founder, Steve Wozniak, and CEO of Tesla, Elon Musk – stating generative AI's advancement to this extent would be humanity's 'biggest existential threat'.  
"While these concerns are valid, the UK's framework sets out principles – rather than new legislation – for existing regulators to use at their disposal," she says. "The UK government appears to be prioritising its commitment to 'unleashing AI's potential across the economy', as laid out in the whitepaper. Despite the clear advantages of this, other countries have taken a different approach. Policymakers across the UK, EU and US are soon to define the global AI power dynamics over the next decade, this will rely heavily on the trust it garners with consumers, and attractiveness to investors."
The shortage of talent
A consideration for businesses to tackle is the one thing that money can't easily solve – the availability of talent, says Nick Adams VP EMEA, G-P, a leader in the global employment industry. Across many economies, a shortage of skilled workers is causing significant difficulties for employers focused on growth or simply needing to fill open positions to ensure they can deliver business as usual.
"The UK, in particular, is facing a very tight labour market and the long-standing tech skills shortage will continue to present a major challenge for many firms," he says. "This shortage of labour will pose a serious risk to the economy's growth. What's needed is an easy way for companies to access the best talent, regardless of location. And thanks to the growing Employer of Record industry, we'll see a significant uptick in companies that are embracing the global talent pool that's now wide open to them."
Diversity, inclusion and the intergenerational workforce
With talent at a premium, a key way to secure a talent pipeline is to support all members of the workforce, ensuring that everyone has the right opportunity.
At our Think Women event in March, delegates and panellists discussed how to creating a diverse workforce and open up opportunities for all. This might mean rethinking overseas assignments, getting the right support and package in place and not looking at women as a single homogenous group. Our panel debated how to develop the careers of women, why diversity, equity and inclusion needed to be viewed through an intersectional lens and how best to encourage and nurture all talent, regardless of ethnicity or gender.
The Innovation Festival for Global Working will develop these themes further, with thought-leaders discussing how to increase equity and opportunity in organisations, and how to harness the power of different sectors of the workforce to future-proof your organisation.
Among the pressing issues facing global organisations are the need to incorporate Environmental, Social and Governance (ESG) compliance into the way the business is run. How to manage tax and immigration for your staff as moving around the globe becomes ever more complex. Nurturing and supporting employee wellbeing at a time when the demands on staff and their families are increasing and ensure that all the members of the workforce are motivated and have the opportunity to develop their career.
Bringing older people back to the workforce to solve the talent shortage
With talent at a premium, there is much discussion about bringing older people back into the workforce. The UK government pension reforms recently have addressed some of the financial concerns that older workers had about working for longer or coming back to work.
Dr Maurice Duffy, HR expert and business coach who has worked with Google, BP and Sony, is Chief Advisor to the Mongolian Government and a visiting Professor of Innovation and Transformation at Sunderland University, says it is critical to get older people back into work. He says that across the OECD, the ratio of older people aged 65 and over to people of working age (15-64) is projected to reach 2 in 5 by 2050.
"A critical imperative we face in world of work is getting older people back to work. The landscape of our workforce is changing as we are living longer. Across the OECD, the ratio of older people aged 65 and over to people of working age (15-64) is projected to reach 2 in 5 by 2050," he says.
"The world of work is a fast-changing landscape. The fast pace of change and evolving skills is a challenge for a new career or a new role for older people in the workplace. We need to move beyond these stereotypes of age constraints and create inclusive policies and work environments that accommodate an extended work cycle and attract older people to return. Workforce retraining initiatives must have a stronger focus on older generations. More than ever, embedded lifelong learning.  We need to build learning system that provides opportunities for older workers and enables their adaptability and resilience."
When dealing with older workers, he says communication style is very important. Barking orders rarely is a sign of great leadership, but it's particularly off-putting when it comes to engaging and supervising older people.
"Older people don't want gimmicks, they just want to feel needed and respected and loved and given the opportunity to impact others, to feel they are making a contribution somewhere and seeing the results," he says.
He offers some pointers to truly overcome age discrimination,
Build inclusive Learning programmes
Offer flexible working
Look at pay equity by job and level, not tenure.
Bring age diversity into your DEI programs.
Give older workers managerial roles, supervisor roles, and mentor roles.
Invite them back to work from retirement, by offering them greater social contact and a new skill.
Coach recruiters not to discriminate by age and instead how to engage by age.
Teach younger leaders about reverse mentoring and how it can expand the workforce.
What else will impact the world of global mobility in 2023?
Join us at the Innovation Festival for Global Working and prepare to be inspired, challenged and motivated to join the move for change. Enjoy networking with leaders in the industry and finding out how to boost your own career in 2023. Join the best thinkers in global mobility, HR and leadership, in a glorious countryside setting. We will be at Lamberhurst in Kent on June 7 to 8 and look forward to seeing you there.
Future of Work Festival Highlights 2022
Future of Work: Trends (Keynote Panelists) 2022