What Makes American Education Unique: A Deep Dive
Many families all over the world aspire to and strive for an American education for their children. That's because American schools are well known for providing high-quality education through a balanced, tried-and-tested curriculum. 
The US education system is informed by cutting-edge research, which helps develop students into critical thinkers with well-rounded social-emotional skills.
Generally speaking, American education combines facts, figures and data with an open-ended, problem-solving-based curriculum that involves collaboration, trial-and-error methodologies and risk-taking. And it opens up students to unlimited opportunities, not only in the US but also globally.
Sending your child to an American school means they'll learn the skills and confidence necessary to enter schools, colleges and universities in the United States or anywhere else. But how can you know if American education is right for your child?
In this article, we will address key inquiries about the American education system, such as its structure, objectives, and the reasons to contemplate it for your child.
How is the American education system structured?
Generally, the American school system is divided into four stages:
Early Childhood Programme (Nursery to Pre-K) — 2 to 5 years old,
Elementary School (Grades 1 to 5) — 6 to 10 years old,
Middle School or Junior High School (Grades 6 to 8) — 11 to 14 years old, and
High School (Grades 9 to 12) — 15 to 18 years old.
A diploma or certificate is awarded to students who graduate from High School (Grade 12). From there, many students go on to college or university, which is referred to as higher education.
What are the goals and outcomes of American schooling?
A balanced approach to literacy
Balanced literacy is about balancing explicit language instruction with independent learning and language exploration. It aims to strike a balance between whole language and phonics when learning how to read and write.Critical phonics lessons are balanced with rich literature from around the world (especially in the USA) that demonstrates creativity and thoughtfulness alongside the necessary phonics and literacy skills.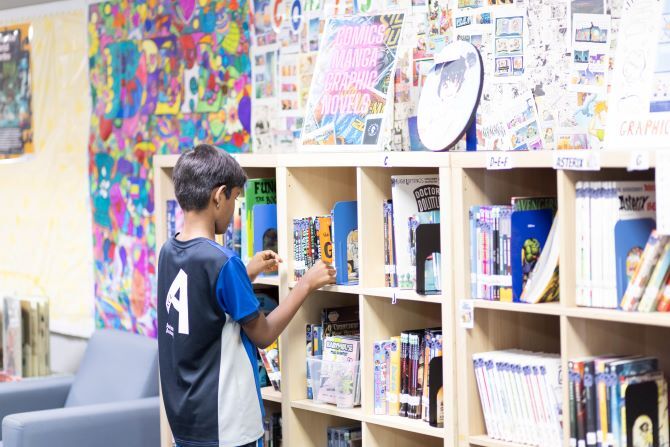 1.   American schooling is rigorous and standards-based
Rigorous educational standards such as the AERO Curriculum and US Common Core ensure students meet their academic goals in Mathematics, Science, Social Studies, English Language Arts/Literacy and other subjects. Plus, they allow an easy transition to any similar American curriculum worldwide.
This means that international students will be familiar and up to speed with the curriculum when they move to the US or an overseas American school. It also boosts confidence and provides a much-needed sense of security, especially when adjusting to a new environment or country.
2.   It prepares students for life in US schools
Transferring schools can be stressful enough, so you can imagine how your child might feel when they move to the US or a different country. More often than not, academics are not the main concern — instead, many students worry about speaking up, making friends, and fitting in at school.
This transition is rarely easy, but it's much smoother for students who come from American schools. They're already familiar with the curriculum and find it easier to participate in class — especially in an American classroom setting where discussions abound and students are encouraged to think on their feet critically and logically.
American education also helps international students understand and harmonise with their classmates, who also come from diverse cultures and backgrounds. By acknowledging and incorporating this diversity into the curriculum, American schools help students develop the confidence and crucial skills to flourish in their new environment. Students are also less likely to feel alienated, which means they can adapt to their new life and school faster.
Whether your child is headed to the US or a different country, American schooling provides a strong foundation for success in an increasingly global world.
Discover an Authentic American International School in Singapore
XCL American Academy (XAA) international school, part of the XCL Education group, has operated successfully in Singapore since 2022. We offer an authentic American curriculum to enhance students' academic and personal growth.
Our school is designed to offer excellent preparation for students planning to study, work and live in the United States and other parts of the world through rigorous academics aligned with American curriculum standards and a holistic approach towards character development and experiential learning.
We have carefully selected only the best curriculum programmes that have been tried and tested worldwide. In addition to closely following the rigorous AERO and the Common Core curriculum standards issued by the United States Department of Education, we adopt internationally recognised curriculum programmes such as the University of Chicago Everyday Math, Inspired Science, and a balanced approach to literacy with materials from Scholastic.
While we strongly emphasise what really matters – the rigorous academic programme – we also pay special attention to the social-emotional needs of the students in our care. A formal character development programme using the acclaimed Second Step framework has been embedded into the daily life of all students from Nursery to Grade 8 to help prepare them to become productive, caring, and creative global citizens. This character development programme aims to promote positive behaviour, global awareness, tolerance of others, and above all else, kindness and empathy.
One of the standout features of our curriculum is our unique PioneerTown programme, which focuses on entrepreneurship. Students participate in a large-scale simulation of a town, engage in role-playing and taking on different responsibilities in a self-contained economy, and learn important concepts such as economics, negotiation, innovation, leadership, sales, commerce, and many others.
Little by little. Day by day, students will develop the mindset and experiences they will need to be at the forefront of this change and to be agents of their own success.Contact us today to learn more about our curriculum, the American education system, and how we prepare students to become the pioneers of tomorrow.