This article is taken from the 2023 Relocate and Think Global People Awards supplement.
Watch the highlights of our 2023 Relocate Global Awards here.
Watch the highlights of our Innovation Festival for Global Working here.
This award acknowledges innovative contributions to global people management research and thought leadership that have practical implications, impact and contribute to the advancement of knowledge.
Introducing the award and announcing the winner, head judge Dr Sue Shortland explained: "When we research, we learn. When we share our research, we all move forward. That's critical for all of us. This relocation management company has put research at the heart of what it does to drive forward its relationships with clients/industry professionals and provide tailored information on current practice and trends."
A dedicated thought-leadership and research team
Santa Fe Relocation's research programme is valuable, impactful and impressive. Through its scope, strategic value and practical application, it is leading research and practice in our sector, helping individuals, organisations and economies to thrive and compete sustainably on a global scale, and meet significant challenges, such as key skills gaps.
Santa Fe's dedicated thought-leadership team delivers its strategic insights and practical applications through robust data, interviews and analysis. Its output is freely available and shared as an objective global reference source for clients, leadership teams, peers in the global mobility supply chain and academics. As a measure of the impact of Santa Fe's research, over 700 people attended its webinars last year, with two research reports widening its reach.
The first report, 'Reshaping Global Mobility – Is it time to think outside the lines?', conducted in partnership with Crowe LLP, canvassed 11 global organisations in diverse sectors on the hot topic of how cross-border remote working had evolved in their businesses.
The second, 'Talent – What works best? In-person, virtual, or hybrid?', was a year-long collaboration with Dr Phil Renshaw of Cranfield University and Dr Jenny Robinson of Henley Business School. Using the descriptions and classification of five international assignments models, all but one an established approach, they explored the differences in performance and impact between those assignment types involving traditional face-to-face activities and those with virtual or hybrid components.
Both pieces of research confirmed that, since the pandemic, there remains an ongoing need for traditional assignment arrangements. In this this age of tech- and AI-enabled working, 'presence matters'. Further, among the key factors determining approaches to managing cross-border remote working are the organisation's size, available resources – or willingness to allocate – and the investment of executive time; a conclusion that emphasises the ongoing importance of innovation and leadership in our sector for helping all businesses and organisations to grow globally.
Supporting evidence-based decision-making
Ultimately, this award-winning programme means that the international HR and Global Mobility community has new practices and a sound evidence base to draw on to influence colleagues who are reluctant to move, as well as make the business case to managers and business leaders that virtual will not always deliver the desired outcomes.
"Santa Fe's thought leadership demonstrates the value and importance of research to the global mobility industry," commented Dr Sue Shortland. "The availability of research documents and webinars to those in the industry demonstrates this firm's commitment to sharing knowledge, understanding, and best practice. The research is detailed and well-presented and clearly makes a strong contribution to knowledge and practice. It demonstrates an innovative approach to research by a relocation management company."
Collecting the award, John Rason, said, "I'm delighted to be here and accept this award on behalf of Santa Fe Relocation. Thank you. We put a lot of effort into research and for us, research is about the industry. This morning we heard about how learning is lifelong. We collaborate and work out what we can do to add value for everyone. As much as we are doing it for us, we are doing it for our clients and we are doing it for you."
Visit the Santa Fe Relocation website

Join Think Global People
Our exclusive membership network for decision-makers, aspiring leaders, experts and thought leaders focused on global business and working.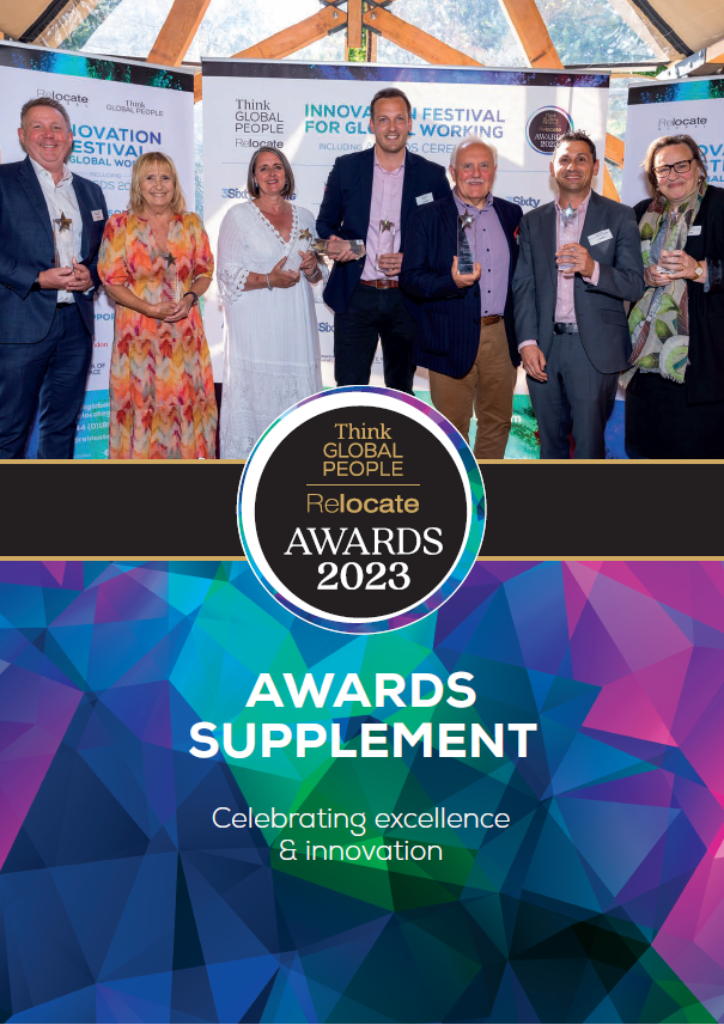 Download our Awards Supplement 2023