This article is taken from the 2023 Relocate and Think Global People Awards supplement.
Watch the highlights of our 2023 Relocate Global Awards here.
Watch the highlights of our Innovation Festival for Global Working here.
This award celebrates excellence in ESG for growth, outstanding people outcomes or contributions to sector's advantage. "It's about your journey; where you've got so far, and where you're heading," said host, Jayne Constantinis, introducing the award.
Synergy Global Housing certainly ticks all three of these boxes. Alongside its award-winning diversity, equity and inclusion initiatives – which are widening access to careers in global mobility and hospitality, enabling fresh new thinking on how to best support clients cost-effectively – Synergy is delivering on its statement of intent of taking "real, tangible action and reinforce progress with transparency, accountability and responsibility" through its constantly improving ESG practices.
Science-backed accountability and progress
At Synergy, achieving the company's environmental goals are everyone's business. Supported by senior leaders, a team of Sustainability Champions are driving the agenda forward across the company to achieve Synergy's goal of being carbon-neutral by 2030.
It is measuring progress by partnering with sustainability technology provider, GreenFeet, which accurately calculates carbon emissions and tracks progress. Synergy has also committed to several organisations that keep businesses fully informed and accountable to their ESG goals. The Science Based Targets Initiative ensures all Synergy's actions are in line with learnings from the latest science necessary to meet the Paris Agreement goals, while its Green Tourism accreditation adds a further layer of accountability.
Collaboration and innovation are also core components of Synergy's ethos and practice around ESG. Synergy shares the lessons from its journey through participation on both the sustainability committees of the GBTA and CHPA to promote alignment and foster progress. Synergy has also developed its own 'Green Leaf' programme, which ranks its hundreds of thousands of units on the UN's Sustainable Development Goals. This transparency allows travellers and clients to meet their own ESG goals and make more informed choices.
Transparency, diversity and compliance
Each of these measures – and those around DEI – reinforce Synergy's integrity, its leadership in the communities it operates in, and enhances transparency around achieving key goals. To promote this important aspect of the customer relationship and employee experience, the company is further strengthening its data privacy procedures, platform encryption and working towards ISO27001 certification on information security systems, as well as seeking to increase female representation in Synergy's leadership team to 76% as part of its overarching plans.
"It is very clear that this organisation is hugely committed to environmental action as well as diversity and governance initiatives," said head judge, Dr Sue Shortland. "Synergy has demonstrated a very well-thought-through understanding and well-resourced and researched implementation plan involving their team members to meet all three ESG goals.
"Strong action is being taken on reaching carbon neutrality, addressing social issues to promote equity and inclusion and on governance issues to ensure compliance by a highly committed leadership team. The key point is accountability – measurement and monitoring are at the heart of actions to ensure targets are met."
Collecting the award, presented by Gina Lodge, CEO and founder of World View Mentor, Synergy's business development manager, Jack Bryant, said: "The leadership at Synergy are really massive drivers for improvements in the business and it's been a real commitment for us and our clients. Not just because it's the right thing to do. We are really proud of the achievements we've made so far, and it's an ever-evolving thing for us. Thank you very much again."
Visit the Synergy website

Visit the IKAN Relocation Services India website

Join Think Global People
Our exclusive membership network for decision-makers, aspiring leaders, experts and thought leaders focused on global business and working.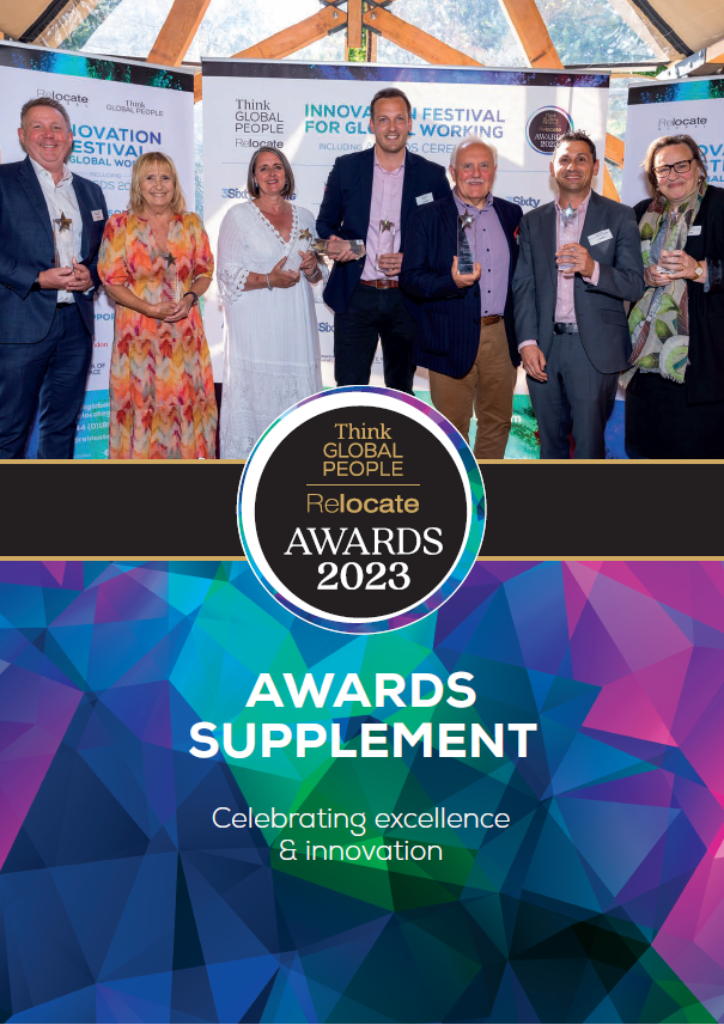 Download our Awards Supplement 2023