This article is taken from the 2023 Relocate and Think Global People Awards supplement.
Watch the highlights of our 2023 Relocate Global Awards here.
Watch the highlights of our Innovation Festival for Global Working here.
"I never thought that one of my tasks in relocation was going to involve physically relocating people – Ukrainian refugees," says Inigo Lopez, founder of BiCortex Languages.
Ordinarily, the company offers language courses for relocating families, intercultural training and certified translation services worldwide from its Spanish HQ. Yet, in March 2022, struck by news reports depicting the human cost of war in Ukraine, Inigo Lopez was compelled to leave his family and team, who were facing a major RFP at the time. Selflessly, he packed his campervan with humanitarian aid and headed for the Polish border in what turned out to be an informal convoy of like-minded volunteers to help evacuate Ukrainian families.
Inspiring leadership
Inigo's extraordinary personal leadership has made a significant impact on the lives of the 11 people he helped reunite with their families already in Spain. It also inspired many offers of help from his network of relocation contacts, and among his own team and home community.
"The indescribable hardship suffered by the refugees, but also the sheer kindness of countless individuals and organisations I met along the way, changed me, as well as the business that I run, forever," says Inigo of this physically and emotionally draining journey.
Relocation companies in Paris and Frankfurt donated supplies on the way to Ukraine and the trip and these actions similarly inspired other global mobility companies, which paid for the families' stays on the route back. At least three people have since made the same journey to the Ukrainian border.
The ripple effects of Inigo's actions continue. In May 2022, BiCortex Languages began offering free Spanish lessons for Ukrainian refugees, further deepening the positive impact of Inigo's initial decision to act. Other companies are supporting their efforts and following this lead by donating lessons.
Sustaining meaningful change
The BiCortex Language team remains committed to supporting humanitarian efforts all over the world, including fundraising to support the people caught up in the earthquake affecting Syria and Turkey. These actions – precipitated by Inigo's initial decision – are formalised through involvement with organisations like paradiGM and Relocate the Profit, which are groups that supports the humanitarian work of NGOs.
All these partnerships, knowledge and actions are bringing together the support networks, expertise and cultural insights of the entire global mobility community for wider social betterment.
"This is a very positive story, heart-warming in its telling as to how one individual, Inigo Lopez, really made a difference to the humanitarian situation of the Ukraine war," says head judge, Dr Sue Shorthand. "It also demonstrates that a great leader can rely on staff to manage the business if they are trained and supported to do so ahead of any crisis emerging. This has generated a sense of social responsibility which has been injected into other initiatives."
Relocate Global's managing editor Fiona Murchie presented the award, saying: "We were thrilled that this year this category was so well entered. We are all making so much headway in standing out in international leadership with great passion and vision."
Collecting the award, Inigo Lopez, founder of BiCortex Langauges, said: "Thank you very much. I am truly honoured to receive this award. The journey has been the toughest in my life, but it inspired friends and other people and companies in global mobility to take action." Inigo also paid homage to his team. "They took care of everything, and even won an RFP while I was away. They have also helped us deliver 600 hours of free language training to refugees."
Visit the BiCortex Languages website

Join Think Global People
Our exclusive membership network for decision-makers, aspiring leaders, experts and thought leaders focused on global business and working.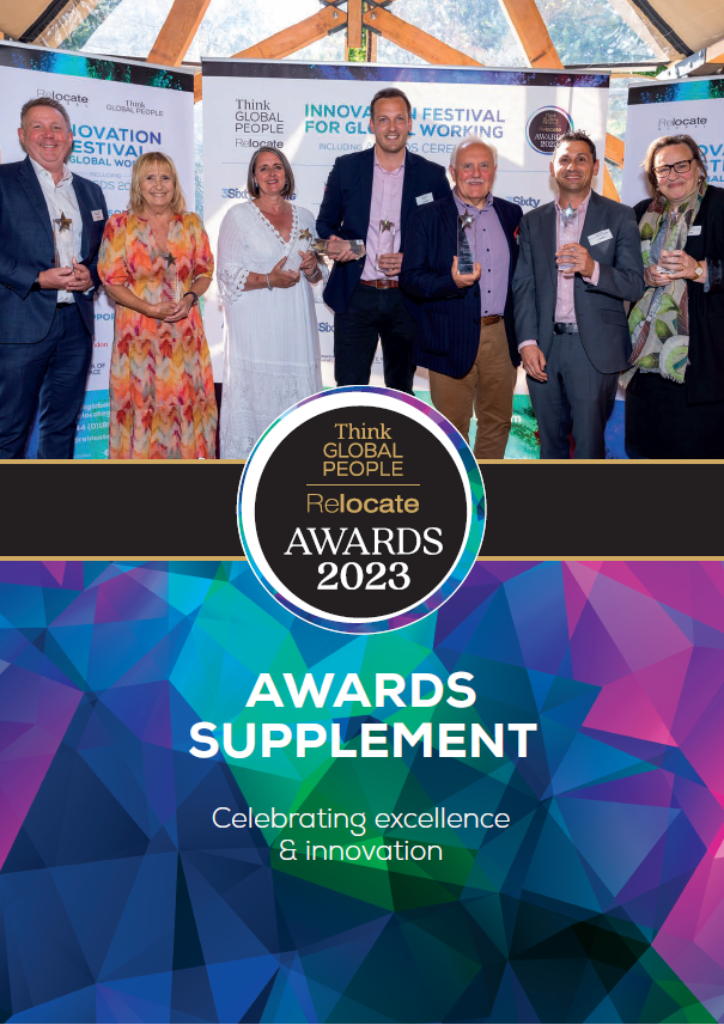 Download our Awards Supplement 2023