Excellence in talent development, deployment, diversity, equity and inclusion
This article is taken from the 2023 Relocate and Think Global People Awards supplement.
Watch the highlights of our 2023 Relocate Global Awards here.
Watch the highlights of our Innovation Festival for Global Working here.
The past 12 months at global corporate accommodation provider, Synergy Housing, have been packed with purpose around talent management and DEI. The outcomes are incredibly impressive, including a sector first, significant cost savings for clients, extraordinary talent development and responses to humanitarian crisis.
The appointment in March 2022 of Synergy's Chief Diversity Officer, Joan McCarthy Mack, was unprecedented for a major serviced apartment provider.  The inauguration of a diversity committee, critical for bringing together different voices, has also been essential to Synergy's strong intentions for DEI, talent development and deployment.
Living and leading DEI values
Among the first steps to truly incorporating DEI into the wider business strategy was rolling out a leadership-supported, company-wide survey. The aim was to identify gaps and provide an evidence base to inform Synergy's roadmap to embedding DEI into every aspect of the company and its overarching mission: 'To foster an environment where everyone feels they belong; diversity, equality and inclusion is celebrated; and our company reflects the people and markets in which we work and live.'
Under Joan's guidance and leadership, Synergy and the diversity committee have launched a truly comprehensive range of policies, training and programmes to make this vision a reality.  Employees are routinely participating in an ongoing series of high-quality evidence-based educational sessions on DEI topics. These are raising awareness of how better and more inclusively to meet the needs of clients and customers in diverse international markets, as well as their team and colleagues.
To avoid the echo chamber effect, Synergy partnered with the University of Surrey on an innovative research project to collate and centralise all global definitions of DEI. Alongside this important aspect of Synergy's strategy, it has prioritised collaborating with suppliers to ensure all apartments are DDA compliant and accessible to all.
Developing and deploying talent with inclusivity
In talent attraction, development and deployment, Synergy is encouraging applicants from a wider pool of talent by dropping the degree requirement from job descriptions. This while Synergy's new graduate/internship programme, Grow@Synergy, offers equal career pathing, fast-track opportunities and training in key workplace skills, such as commercial awareness, assertiveness, effective delegation and decision-making.
Importantly, the programme – alongside the DEI vision – supports individuals' growth and wellbeing with coaching to help them flourish, fully be themselves, and realise their leadership ambitions in the company.
Today, these sector-leading initiatives are paying off with an array of very successful outcomes. Among the first cohort, 85% have already been promoted and the benefits for Synergy's customers are clear. Using skills she is developing on the programme, one junior leader spotted the opportunity to save a client £1.2mn following a post-Covid 30-40% cost spike as restrictions relaxed and business travel and relocations returned. In crisis management too, new Grow@Synergy leaders led Synergy's response to the Ukraine war to ensure safe passage for 300 refugees.
Explaining why Synergy won this important award, Chief judge, Dr Sue Shortland, said, "This company clearly puts diversity, equity and inclusion at the heart of its activities. The Grow programme has had immense success in developing a diverse range of junior talent to the benefit of the firm and its clients. This is a very strong submission that clearly and concisely articulates the benefits of adopting a progressive and forward-thinking philosophy towards attracting, retaining and developing diverse talent."
Presenting the award, Gael Panhelleaux, executive director of expatriate support organisations, FOCUS, explained why this award is important. "It's important because we are all welcoming people from everywhere around the world. It is what we do"
Collecting the award, Jack Bryant, business development manager at Synergy, said: "We have a fantastic team at Synergy. The Grow programme is a real hit and it's really important we build up our diverse talent. Thank you."
Visit the Synergy website

Join Think Global People
Our exclusive membership network for decision-makers, aspiring leaders, experts and thought leaders focused on global business and working.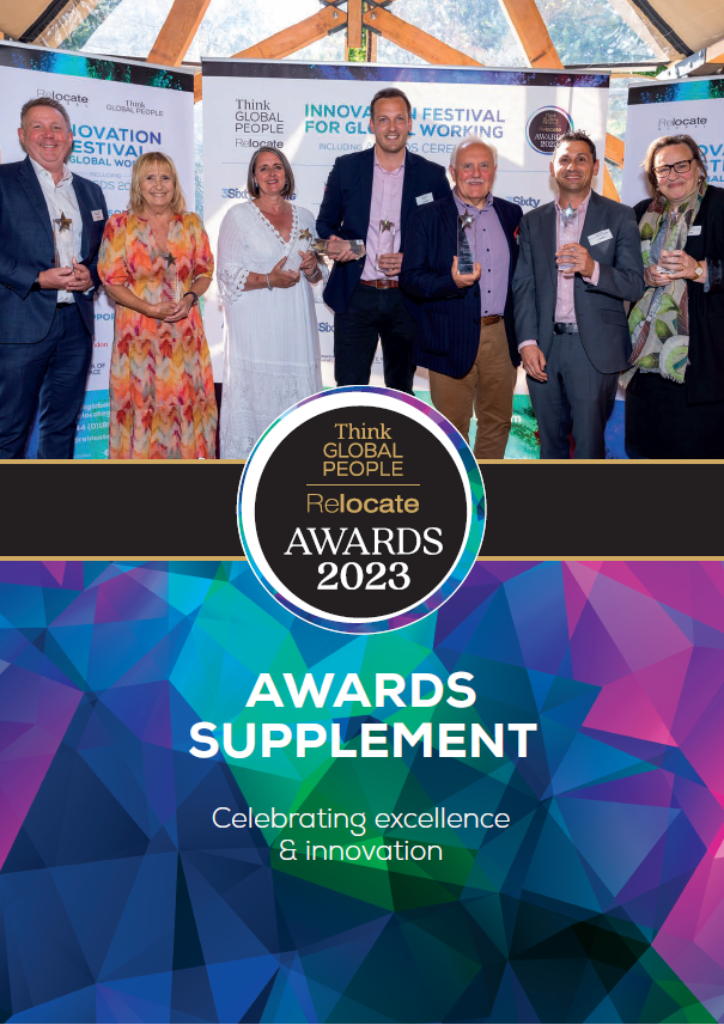 Download our Awards Supplement 2023