This article is taken from the 2023 Relocate and Think Global People Awards supplement.
Watch the highlights of our 2023 Relocate Global Awards here.
Watch the highlights of our Innovation Festival for Global Working here.
Serviced apartment agency and operator Synergy is going places. In 2022, for the third consecutive year, it achieved its highest ever revenues. Customer satisfaction was also sustained at a remarkable 98% as occupancy increased by 30%.
Alongside commercial success and these excellent customer outcomes, Synergy's adoption of new technology and innovations are benefiting the wider serviced apartment sector – and headed off the competition in another long list of entrants. Synergy's innovation and growth over the past year is helping to further establish this relatively new sector's credibility and competitiveness in the global market.
Investment in the latest technology
The launch of CodeOne – an industry-wide apartment sourcing, live reservation and financial management system – is testament to how Synergy is leading this agile sector and the strong field of competition in this award category. In line with its foundational DEI strategy, CodeOne offers multiple benefits to individuals and organisations. These include catering to individual preferences and requirements around accessibility and pet-friendly apartments. CodeOne also enables automated regional invoice templates, which reduce human error, ensure cost-effectiveness for clients and streamlined tax compliance.
CodeOne has been a valuable tool for clients to manage and optimise budgets and operators their pricing and comeptitors during the past year of high demand post-Covid. Synergy's adoption of Lanyon RFP technology – making if the first serviced apartment operator to do so – has further supported Synergy's revenue growth and customer satisfaction through its quest to offer the most cost-effective solutions to clients.
Lanyon is helping operators optimise profitability and remain competitive amid changing market conditions with insights into average market prices. Lanyon's data also enables both operators and clients to budget more accurately budget and forecast in their financial reporting.
Global leadership – growing impact and presence
Synergy's leadership in all these areas has also seen the company encourage suppliers to share their ESG initiatives via Lanyon alongside Synergy's own significant DEI and ESG initiatives. Synergy tracks its emissions, has a goal of becoming carbon neutral and is a signatory on the Science Based Targets Initiative, which holds Synergy accountable for its progress.
Synergy's opening of new regional offices in Bangalore; sales, supply chain and accounting expertise in Singapore and Shanghai; as well as adding new inventory in Munich, Dublin, London, Washington DC and Phoenix, further strengthens Synergy's global leadership and impact on the sector, as well as the level of service it can offer clients and operators. This growth is backed and made possible by its people and Synergy's award-winning internal talent mobility programmes, employee support and supportive workplace culture.
On Synergy's win in this category, which attracted a long list of excellent entries, head judge Dr Sue Shortland, said: "This is a firm which is clearly not standing still. It is taking action to improve on all fronts: technology, social responsibility, green credentials and employee wellbeing. Synergy is to be congratulated for the energy it has shown to improve working conditions for employees as well as providing innovative, tailored and cost-effective housing solutions for clients."
Presenting the award, Mary Biddlecombe of Innovation Festival for Global Working and award sponsor TASIS, the American International School in England, said "We have families and students representing 65 nationalities, so we are very well versed in international mobility and particularly around housing and its importance for education."
Jack Bryson, business development manager at Synergy Global Housing, collected the award on behalf of his colleagues worldwide: "Thank you very much, from myself and everyone else at Synergy. We are humbled and very proud to have this achievement. Thank you to everyone who has made this and today possible."
Visit the Synergy website

Visit the 3Sixty website
Visit the Situ website
Join Think Global People
Our exclusive membership network for decision-makers, aspiring leaders, experts and thought leaders focused on global business and working.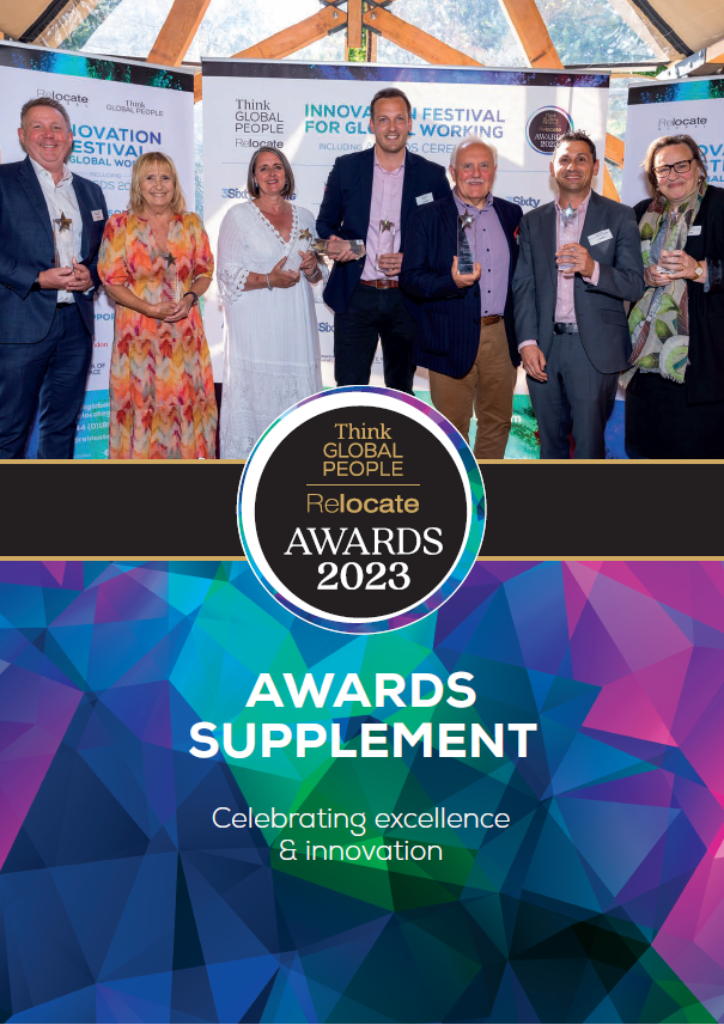 Download our Awards Supplement 2023